Braintree
Accept anything.
Braintree's code lets companies accept mobile payments of just about any type, all around the world. The two most important groups for them are entrepreneurs and software developers. Getting entrepreneurs to listen wouldn't be that hard, but devs hate pretty much everything about #brands and would be much harder to reach.

At the time, I'd just completed General Assembly's three-month coding bootcamp—uniquely qualifying me to work on something like this.
Out of Home
We used a combination of subway station takeovers, billboards, and street-level print to reach people in startup communities in New York, San Francisco, Chicago, London, and Sydney.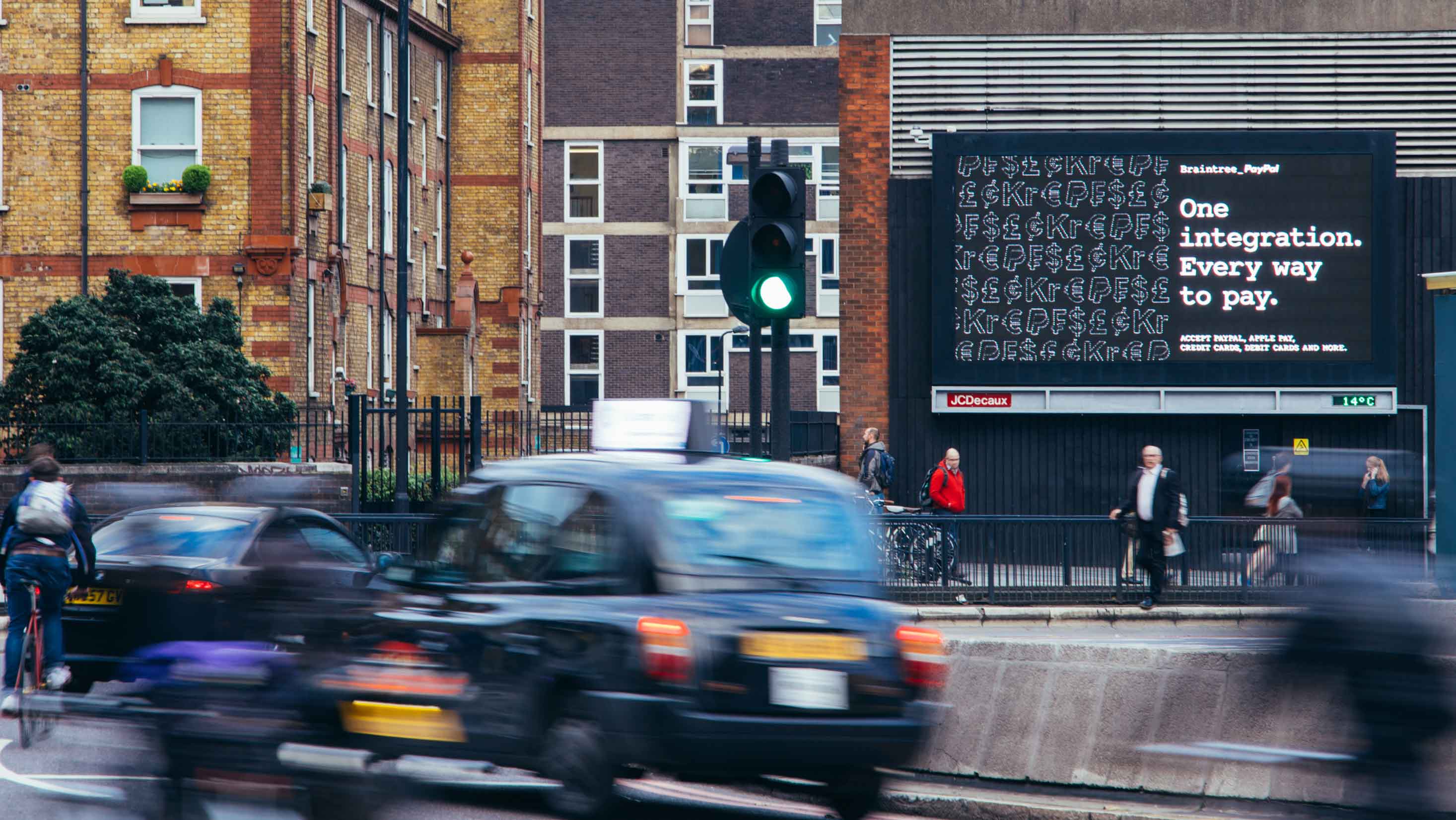 Print
We transformed the covers of a London daily paper into an ASCII-art newspaper, complete with short articles, infographics, and even a crossword puzzle about mobile commerce.
A love letter to every startup




First off, it's going to be great.

Enduring optimism will help you survive situations others don't. So remember that—it's going to be great.

Now that that's out of the way, welcome to the hardest thing you've ever attempted. It will take everything you've got and might be years before a truly great idea delivers even a shadow of its promise. Nobody is going to care about your hardship until after you've succeeded, but also know that the adventure this will be is proportional to the mountain you choose to climb.

Accept the challenge.

No matter how smart and determined you are, you can't do it alone. Good partners make each other better, sometimes through disagreement. Differences are something we all have in common. Hearing conflicting views will help you see the whole picture.

Accept your own limitations. And accept each other's differences.

Things change. Yes, even a disruptor's disruption can be disrupted. Things will go right. Things will go wrong. Embrace it all the same way. Work with it, learn from it, and either transform or transcend it. Adapt. Pivot. Grow. Embrace things as they are, and you've got a chance to create how they'll be.

Accept what's hard just like you accept what's easy. Accept the good. Accept the bad. Accept anything.
Code Commands
We had murals painted in tech-heavy parts of NYC, SF, and Chicago to reach devs. Each one highlights a specific benefit of Braintree as a command devs might enter in their computer's terminal. If the end of that last sentence made no sense to you—good! This was only meant for devs.
#CodeforCoffee
We extended the code command concept by teaming up with a couple local cafés and making riddles with secret passwords that only someone with coding knowledge could figure out.
Case Studies
As part of our appeal to entrepreneurs, we interviewed the founders and senior developers of some successful startups to hear how Braintree helped them grow their business.